Along Lambs Road (in Albemarle County) lies the historic Sammons family cemetery. Because of the transfer of lands over half-a-century ago, the cemetery was only "re-discovered" around 2012/2013. When family members and CVHR surveyed the site and the hand-carved gravestones, they realized this sacred site contains the remains of several significant members of the African-American community that once lived in this neighborhood as well as several yet to be identified burials. For more than a century, the Hydraulic Mills at the junction of Ivy Creek and the South Fork of the Rivanna River were the commercial hub of a large rural area northwest of Charlottesville.
Unfortunately, the cemetery was located in the path of the proposed U.S. 29-Western Bypass. The family, local history, preservation and community groups strongly opposed any action by the State to exhume the burials and move the remains to a different location. Ultimately, the Bypass plans were canceled and the cemetery was preserved.
This article shares our research into the lives of some of the people who lived in this area and who achieved so much during such a difficult time in American history. For additional background information on the surrounding Hydraulic Mills / Union Ridge community please see our related article.
Burials in the Sammons Family Cemetery
Jesse Scott Sammons, his wife Lula Minor Gibbons Sammons, and their son Robert J. Sammons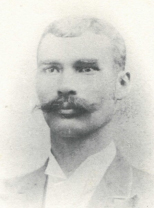 Jesse S. Sammons (1853-1901) (Figure 1) was a leading figure in the educational, religious, and political life of Albemarle County in the last two decades of the nineteenth century. Born free, the son of Rollins and Sarah Sammons, he was a descendant of Elizabeth (Betty) Hemings through her oldest daughter, Mary Hemings Bell. He lived with his family at the Hydraulic Mills and attended the Freedmen's School (Jefferson Graded School) in Charlottesville after the Civil War. He was the first teacher at the one-room Ivy Creek school about a mile west of the mills. When it consolidated with the Salem School at a new location as the Union Ridge Graded School, he became its first principal, a position he held until his death.
Jesse Sammons was politically active, especially in the period of the biracial Readjuster party in the late 1870s and early 1880s. His standing in the community is indicated by his nomination, in 1880, as a candidate for the Virginia General Assembly; white Readjusters, who thought "the time had not come for such a move in Albemarle," defeated his election. At the time of the Congressional election of 1882, Sammons served as secretary of the Republican Coalition Club of Earlysville Precinct; its constitution was cited in a national publication as representative of the able leadership and organization of black Virginia voters at the time. Sammons was also an active churchman: a member, and secretary, of Union Ridge Baptist Church and an officer at the state level in the Baptist Sunday School Convention
Between 1881 and 1885 Jesse Sammons purchased two tracts of land totaling 73 acres about a mile southwest of the Hydraulic Mills; the Sammons cemetery is on the 27½-acre tract. In 1888 he married Lula Minor Gibbons (1863-1928). Born enslaved, she was the daughter of Anna and Edward Gibbons, a skilled carpenter, and the niece of the Rev. William Gibbons, a prominent Charlottesville and Washington, DC, minister, whose wife, Isabella Gibbons, taught for a number of years at the Jefferson Graded School in Charlottesville. Jesse and Lula Sammons had two daughters and two sons. Robert J. Sammons (1891-1924), their older son, left the Albemarle County farm by 1916 to live with relatives in New Jersey and worked as a dining-car waiter. He died in Jersey City and was brought back to the family cemetery for burial. Their daughter Alice attended Hampton Institute and taught in Albemarle County before moving to Jersey City after her marriage in 1920.
According to his obituary, Jesse Scott Sammons was "a leader in all that tended to the advancement and elevation of the people educationally, morally and spiritually." His memory was fresh in his community in 1948, when the author of a history of Albemarle Training School stated that Sammons "gave unstintingly of his time and energy to his school, his church and his community. He was truly a recognized leader of his day, serving not only in the local community but also in countywide as well as state organizations."
Background: The Sammons Family in the Hydraulic Mills / Union Ridge Community
Jesse S. Sammons was the son of Rollins Sammons (c1815-c1893) and Sarah Bell Scott Sammons (1827-1909), prominent residents of the village of Hydraulic Mills. Born free, Rollins Sammons worked as a miller from at least the age of nineteen at several different mills in Albemarle County. From the now-vanished town of Milton, he went to a mill on Ivy Creek, upstream from the Hydraulic Mills, where he briefly worked in 1860. He returned there fulltime in 1867. Sammons operated the Hydraulic Mills for more than twenty years and owned a half-interest in this commercial hub in rural Albemarle County from 1872 to 1892. The author of a 1948 history of the Albemarle Training School recalled hearing about the "illustrious miller" and his wife, who "lived in their imposing brick home a few yards from the 'Mill.'"
Sarah Bell Scott Sammons, the daughter of Robert and Nancy Scott, was the great-great-granddaughter of Elizabeth (Betty) Hemings, matriarch of the well-known Hemings family at Monticello. Robert Scott, whose wife and children were slaves of Alexander Garrett, purchased and freed his daughter Sarah in 1838. She married Rollins Sammons in 1847 and they had twelve children, including Jesse Scott Sammons; living descendants of four daughters and two sons are currently known.
---
George Rutherford Ferguson
Dr. George R. Ferguson (1877-1932) (Figure 2), the son of William B. and Cornelia Ferguson, was the first African-American physician with a sustained practice in Albemarle County. Raised in Ohio and Kentucky, he attended Fisk University, graduated from the Howard University Medical Department, and, in 1903, passed the Virginia state examining board. He settled in Charlottesville, where he practiced medicine for almost twenty years. In 1904 he married Luella Brown; they had two children, Louise Ferguson and George R. Ferguson, Jr. After his wife's death, Dr. Ferguson moved with his children to Cleveland, Ohio. Father and son, who were both active in the NAACP, returned to Charlottesville in 1927. Two years later Dr. Ferguson married Eva Sammons, daughter of Jesse and Lula Sammons.
An obituary in the Journal of the National Medical Association (Feb. 1933) states: "Dr. Ferguson was among his clientele, the beloved physician. He was gentle, modest, friendly to all, and easily approached by the most lowly. When he decided to go to Cleveland there was general grief upon his leaving, and joy when he returned to his old field of practice. Few physicians of our acquaintance are more generally loved and respected by the community than was he."
Dr. Ferguson's first wife, Luella, was the daughter of Mary Louisa and John Mifflin Brown, an eminent AME bishop. The Fergusons' daughter, Louise Ferguson, had a career as a librarian in Cleveland. Their son, George R. Ferguson, Jr., operated a funeral home in Charlottesville, was president of the local chapter of the NAACP, and led efforts to desegregate the University of Virginia hospital as well as local schools. His daughter, Olivia, was one of the Charlottesville Twelve, a group of elementary and high school students who integrated the city schools in 1959. In 2004 she was awarded an honorary diploma by the Charlottesville public schools and a key to the city by the Charlottesville City Council. In 2012 the honorary naming of a Charlottesville street perpetuated George Ferguson, Jr.'s memory.
A Selection of Archival Sources Used in this Research
Public records for Albemarle County: birth and death records, censuses (population and non-population), chancery court cases, deed books, land and personal property tax records, marriage records, will books
Newspaper articles in the Charlottesville Chronicle, Daily Progress, and Jeffersonian Republican; Richmond Daily Dispatch and Planet; Roanoke Daily Times
"A Short History of Ayteesse," Albemarle Training School Yearbook, 1948, University of Virginia Library Acc. No. 10176
Samuel T. Bitting, Rural Land Ownership Among the Negroes of Virginia [University of Virginia Phelps-Stokes Fellowship Paper], 1915
Philena Carkin Reminiscences, 1866-1902, Philena Carkin Papers, University of Virginia Library
Chataigne's Virginia Gazetteer, 1888-1889
Corks and Curls [University of Virginia], no. 4 (1889-1890), 132-133
Getting Word Oral History Project files and digital archive, Monticello
Hill's directories of the city of Charlottesville
Journal of Negro History, 14, no. 3 (1929), 263-264
Journal of the National Medical Association, 25, no. 1 (1933), 35-36
Union Ridge Baptist Church manuscript history, 18 Apr. 2004
Background on the Hydraulic Mills Community, courtesy of the Ivy Creek Foundation.